This distinguished recognition reflects Iskraemeco's commitment to pushing the boundaries of innovation in the field and its relentless pursuit of excellence.
Iskraemeco, known for its cutting-edge technology, and forward-thinking approach, has consistently demonstrated its ability to develop and deliver comprehensive solutions that address the ever-evolving challenges in the energy and water sectors. With a strong focus on sustainability and efficiency, Iskraemeco has been at the forefront of revolutionizing how energy and water are managed, setting new industry standards along the way. Iskraemeco's future-oriented perspective, coupled with its extensive expertise and extensive portfolio of advanced technologies, has enabled it to revolutionize how energy and water resources are monitored, controlled, and optimized.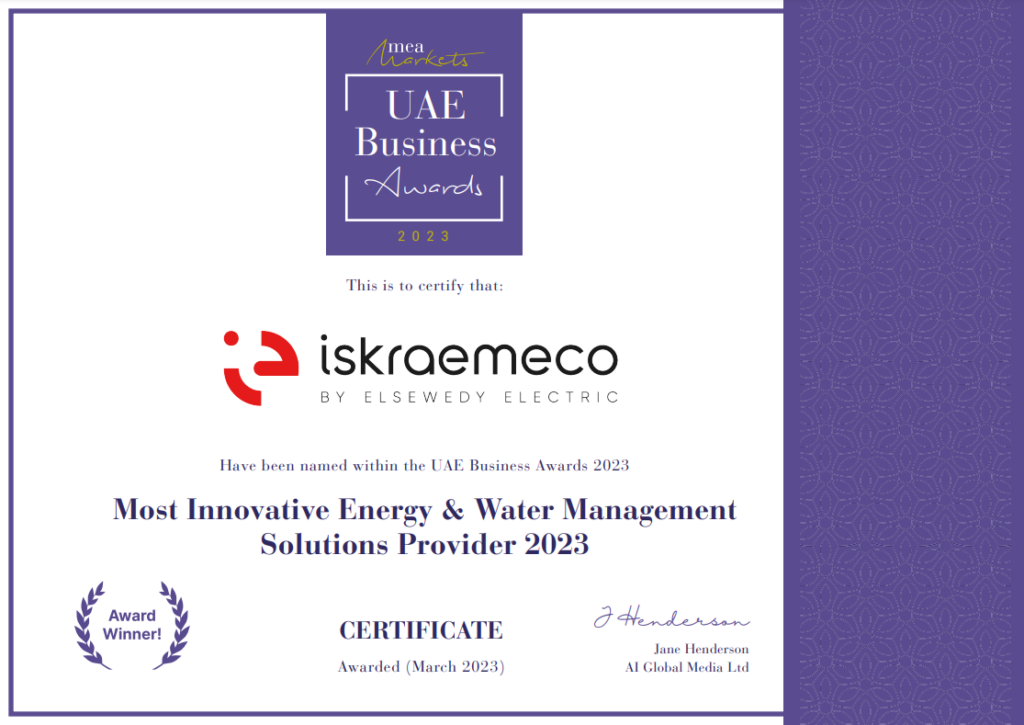 The 2023 UAE Business Awards, renowned for identifying and honouring outstanding organizations within the United Arab Emirates, have recognized Iskraemeco for its remarkable contributions to the industry. This prestigious award is a testament to Iskraemeco's dedication to continuous innovation, as well as its unwavering commitment to providing sustainable solutions that drive positive impact for both businesses and communities.
With the region experiencing rapid urbanization and economic growth, there is an increasing demand for advanced energy and water management solutions to support sustainable development. At this occasion we conducted an interview with Mahmoud Mouaz, Managing Director of Iskraemeco Middle East FZE and Vice President Sales Europe & Middle East, who provided valuable insights into the future outlook of the Middle East region and shed light on the transformative potential of the market in the coming years.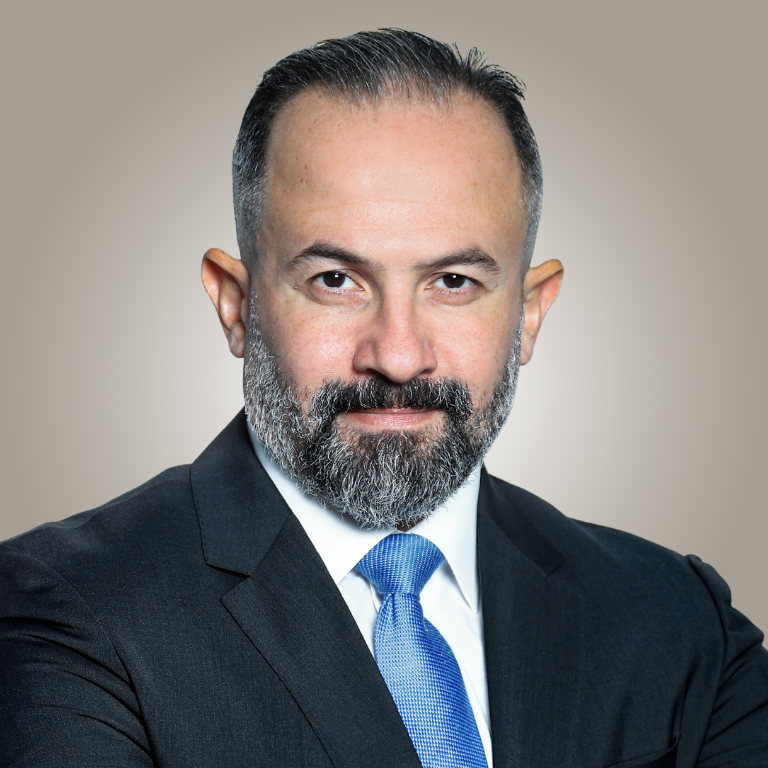 The recognition of receiving this award is undoubtedly a significant accomplishment for Iskraemeco Middle East FZE. Could you please share your thoughts on this achievement?
We are tremendously proud of this recognition. It is a testament to the dedication, hard work, and innovative spirit of our entire team. Iskraemeco develops intelligent digital solutions and services for the energy and water sectors by combining our extensive experience and industry expertise with cutting-edge IoT and AI technologies. By understanding the power of data, we help our customers embrace digital transformation and the associated opportunities for grid management and optimization. Together with utilities and cities, we create sustainable grids that are a key enabler for the green transformation. This award will serve as a catalyst for our future endeavours. It inspires us to continue our pursuit of innovation, to explore new horizons, and to contribute even more significantly to the sustainable development of the region.
When initiating a new project or working with a new customer, what strategies do you employ to ensure a successful outcome?
To ensure the success of a new project, it is important to establish clear goals, conduct a thorough analysis, develop a detailed project plan, communicate effectively with stakeholders, monitor progress, assemble a skilled team, leverage technology, focus on customer needs, and foster a positive team culture based on trust, respect, and collaboration. Equally important, we work with stakeholders to understand their requirements and tailor our solution to their needs, implement effective project management practices, ensure data accuracy and security, conduct testing and verification, and provide ongoing support.
Could you provide us with an overview of the current situation in the UAE, particularly in the region where your business is located? What are the prevailing challenges and opportunities?
The UAE has set ambitious targets for smart meter deployment to improve energy efficiency and enhance customer experience, despite facing regulatory and financial challenges. This presents significant opportunities for companies in the smart metering industry, given the growing demand for advanced metering infrastructure and related services. While challenges such as regulatory barriers and upfront in-vestment exist, the government has been addressing these issues by implementing new regulations and providing financial support to utilities. The country's strategic location, stable political climate, and business-friendly environment make it an attractive market for companies looking to expand their operations in the region.
"This award inspires us to continue our pursuit of innovation, to explore new horizons, and to contribute even more significantly to the sustainable development of the region."
From your perspective, what are the primary benefits of operating in the UAE? Are there any specific areas of growth that position it as an ideal business hub for Iskraemeco?
The UAE offers several advantages for companies operating in the energy and water efficiency spaces. The government has prioritized sustainability and made significant investments in renewable energy and energy-efficient infrastructure. The country's strategic location at the crossroads of Europe, Asia, and Africa also makes it an attractive hub for businesses looking to reach global markets. In addition, the UAE offers a business-friendly environment with a relatively low tax burden and simplified regulatory procedures. The country has implemented policies and initiatives to promote entrepreneurship, innovation, and knowledge-based industries, which can benefit companies working in the energy and water efficiency space.
What sets Iskraemeco Middle East FZE apart from competitors? How do you distinguish yourself and position your company as the preferred choice for customers?
Iskraemeco's smart metering solutions are designed to be flexible, scalable, and future-proof, enabling utilities to adapt to changing energy market conditions and customer needs. The company offers a range of advanced features, such as two-way communication, real-time data analytics, and remote firmware updates, which can help utilities improve their operational efficiency and enhance customer satisfaction.
In addition, Iskraemeco places a strong emphasis on sustainability and environmental responsibility. The company's smart meters are designed to reduce energy waste, promote the adoption of renewable energy, and enable carbon reduction initiatives.
Overall, Iskraemeco's extensive experience in the industry, flexible and future-proof solutions, advanced features, and commitment to sustainability may differentiate it from other companies in the smart metering industry and provide a compelling value proposition for utilities and end-users.


Describe the culture within your company and the initiatives you undertake to nurture and enhance it. What attributes do you seek when attracting new employees, and how do these qualities contribute to their integration into your organization?
Iskraemeco's culture promotes diversity, collaboration, and alignment with global subsidiaries. They foster a welcoming and inclusive work environment and encourage open communication and idea sharing. They work closely with subsidiaries to achieve shared goals and invest in employee development. Iskraemeco also celebrates success and recognizes achievements to reinforce their culture and values. These efforts make them an attractive partner for clients.
What does the future hold for the company? Are there any forthcoming plans or projects you would like to share with us?
Regarding our company's future, it's essential to keep in mind that the smart electricity meter industry is rapidly evolving due to technological advancements and increased demand for smart energy management solutions. To remain competitive and relevant, our company is constantly innovating and adapting to new industry trends and challenges. This could include investing in R&D to create more advanced and user-friendly smart meter products, as well as exploring new markets and partner-ships to grow the business.
We have a strategic roadmap that outlines our company's goals, objectives, and strategies for achieving them in terms of future plans and projects. Integrating artificial intelligence and machine learning algorithms into smart meter products to improve energy efficiency and reduce costs, developing mobile apps or web-based platforms to provide users with real-time energy consumption data, or partnering with utility companies to offer innovative pricing models and incentive programmes for customers are some potential projects or initiatives that our firm may take into account.
As for what 2023 has in store for our firm, it's challenging to predict with certainty what the future will bring. However, we have to remain agile and adaptable to changing market conditions and customer needs. We will focus on identifying and addressing any operational or logistical challenges, expanding customer bases, and building strategic partnerships with key players in the industry. Furthermore, we attend and participate in conferences and events to stay up-to-date on emerging trends and technologies in the smart meter industry.